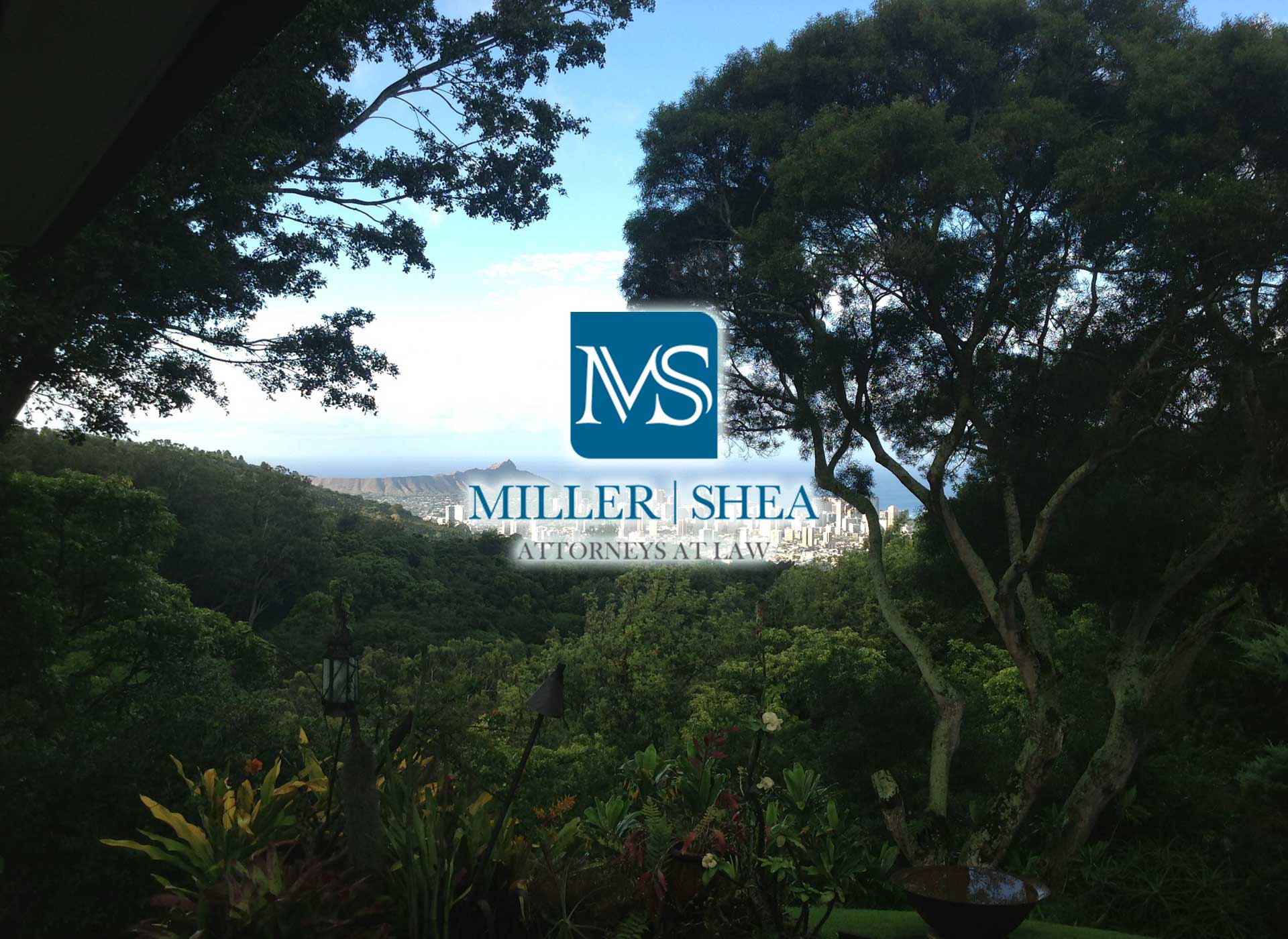 About Us
Miller Shea provides its clients with litigation, trial, appellate and corporate counseling legal services. We provide a broad spectrum of experience in various practice areas, including civil and complex litigation, trust litigation, construction law, collection, insurance law, condominium and association law, real estate, landlord/tenant and personal injury in the state and federal courts. Our clients range from individuals and Hawaii businesses to national and international interests. We employ the highest standards to provide quality legal services while handling all matters in a responsive and timely manner to obtain the best results for our clients in a cost efficient manner.
Collections
We have represented creditors in hundreds of collections case for over twenty years and have collected over $8,000,000 on behalf of our clients. Our clients range from individuals, small businesses, banking institutions, insurance companies, and trust funds. We currently represent Hawaii financial institutions in dozens of matters involving unsecured and secured commercial loans. We also serve as Collection Counsel for the Hawaii Carpenters Trust Funds assisting in the collection of contributions, liquidated damages and interest from signatory employers pursuant to various Collective Bargaining Agreements and ERISA. We have prosecuted civil actions in the District Court of Hawaii, all of the Circuit Courts of Hawaii and the United States District Court, District of Hawaii, and currently have active lawsuits in all of these courts. We have also litigated collection actions in the bankruptcy courts (District of Hawaii and Northern District of California), the United States District Court, Southern District of California, and in the Los Angeles and San Francisco Superior Courts.
Complex Civil Litigation
We represent individuals, small businesses, financial institutions, insurance companies, chemical companies, agribusiness, and trust funds in complex civil litigation. These matters have included substantive areas such as insurance coverage and bad faith, Internet defamation, discrimination in accommodations, personal injury, legal malpractice, CERCLA claims, toxic torts, ERISA, and intellectual property claims.
Significant reported decisions include:
Yoneji v. Yoneji 136 Hawaii 11 (2015)
Mesa Airlines v. Uslan, 2007 U.S. Dist. LEXIS 46369 (D.AZ 2007)
Snyder Trust Enterprises v. WorldPoint Interactive, Inc., 2004 Cal. App. LEXIS 1971 (10/29/04)
Gulf Ins. Co. v. Berger, Kahn, et al., 79 Cal.App.4th 114, 93 Cal.Rptr.2d 534 (2000)
Dionida v. Reliance Standard Life Ins. Co., 50 F.Supp.2d 934 (N.D.Cal. 1999)
Aerojet General v. Transport Indemnity Co., 17 Cal.4th 38, 70 Cal.Rptr.2d 118, 948 P.2d 909 (1998)
Government Contracts Litigation
We have represented Hawaii businesses in over a dozen public procurement disputes and litigation. These matters have included prosecuting and defending bid protests, appeals in administrative hearings and the Circuit Courts of Hawaiiawa. These matters involve county, state, and federal procurement contracts.
Administrative Decisions include:
PDH-2012-005 – Soderholm Sales and Leasing, Inc.
PCY-2012-017 – Soderholm Sales and Leasing, Inc.
PCY-2012-003 – Soderholm Sales and Leasing, Inc.
PCH-2010-010 – Soderholm Sales and Leasing, Inc.
PCX-2009-005 – Ahbe & Svoboda, Inc.
Jeffrey P. Miller
Mr. Miller received his B.A. from the University of California at Santa Barbara, and his law degree from the University of San Francisco School of Law.
Mr. Miller is a founding member of the law firm Miller Shea, and his practice includes real estate, debt collection, banking, landlord/tenant, legal malpractice, insurance coverage and bad faith, personal injury claims and corporate transactional work in both Hawaii and California. He is admitted to practice law in all state and federal courts in Hawaii and California. He currently serves as a member of the Disciplinary Board of the Hawaii Supreme Court. He previously served on the Board of Governors of The Pacific Club, President of The Pacific Club, the Board of Directors of the Hawaii Theatre Center, and the Board of Directors of the Friends of the Hawaii Judiciary History Center. He has been a voluntary mediator for the EEOC and a number of bar associations, including the Hawaii State Bar Association Attorney/Client Relations Committee, and he previously served as Chair of the State Bar of California Committee on Mandatory Fee Arbitration. Mr. Miller also volunteers his time to Volunteer Legal Services Hawaii, which supports low income residents and non-profit organizations. Mr. Miller is a member of The Pacific Club in Honolulu and The Olympic Club in San Francisco.
Patrick K. Shea
Originally from Hawaii, Patrick began his legal career in San Francisco, California, as an associate with prominent national law firms. His San Francisco law practice focused on defense of professionals and corporate boards of directors in negligence, malpractice and breach of fiduciary obligation claims. His practice also included defense of personal injury claims, and subrogation. In 2005, Patrick returned to Hawaii, taking a position with a Hawaii law firm, where his primary focus was on complex commercial litigation. A founding member of Miller Shea, LLC Patrick's practice focuses on all types of civil litigation, trust and probate litigation. He is a past president of the Outrigger Duke Kahanamoku Foundation, and a current member of the Board of Directors of the Native Hawaiian Bar Association.
More Info
Question, comment or concern? Our contact form is the best way to get in touch with us. Address: American Savings Bank Tower 1001 Bishop Street, Suite 2925 Honolulu, HI 96813 Phone: (808) 536-2442 Business Hours: 9 A.M.–5:00 P.M. M-F